If you're on a thrill-seeking trip through New York State's Adirondack region, one area you can't pass up is Lake Placid. This former host of the Olympic Winter Games is home to entertaining attractions visitors from all over Upstate New York flock to for fun.
7 Fun Things to Do While You're Visiting Lake Placid, NY
In town for a day, a weekend, or more? Be sure to do one or all of these seven fun things before you leave:
Go on a Sleigh Ride
If you're visiting in the winter (and why wouldn't you, Lake Placid is gorgeous in the winter!), don't miss the opportunity to partake in the one-of-a-kind Lake Placid Sleigh Ride. Get pulled through the scenic acreage of Lake Placid by Belgian draft and Clydesdale horses in a luxurious 45 minute sleigh ride. Open days and evenings, 7 days a week during the winter months, this seasonal sleigh ride is a fun and unique way to see spectacular views of the Adirondack Mountains from a new angle.
Ride the Little Whiteface Mountain Gondola
If you're scared of heights, you probably shouldn't ride the Cloudsplitter Gondola Ride at the Whiteface Mountain Ski Resort, but if you want a once in a lifetime opportunity to see the High Peaks from a bird's eye view, then this ride is for you! Soar over trees, streams, and trails as you ride the 15 minute ride from base to summit with views of Lake Placid, Lake Placid village, Lake Champlain, and beyond. Plus, once you're at the top, an observation deck awaits you for more sightseeing. Learn more about Whiteface Mountain.
Ride the Waves While Whitewater Rafting
For those looking for s little physical activity (and not afraid of getting wet!), white water rafting is a thrilling activity for adventure-seekers. The Adirondack Rafting Co. guides guests through a scenic 16 mile run along the Hudson River Gorge, lasting roughly 4 1/2 hours. Kids and Parents alike will appreciate the invigorating activity that will get them out of the summer cabin and into the roar of the whitewater!
Tour Santa's Workshop
If you're traveling with kids, one Lake Placid adjacent destination you can't pass up is Santa's Workshop. Just 12 miles north of Lake Placid is the charming hamlet of North Pole, NY, where June to December you can visit an amusement park revolving around all things Christmas. From rides to shows, shops, attractions, and visits from Santa and real reindeer, this family-friendly destination will put you in the Christmas spirit. Learn more about Santa's Workshop and North Pole, NY.
Walk the Bridges of High Falls Gorge
Don't look down! Another destination not for the faint of heart, high up in the High Falls Gorge is a breathtaking 30 minute walk with some of the region's most breath-taking views. Sturdy roped bridges and glass floor walkways take you along four natural waterfalls that nature carved over a billion years ago. Take your camera along to capture the picturesque views.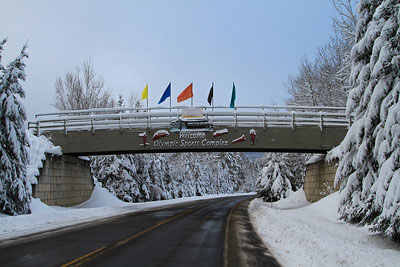 Pretend You're An Olympic Bobsledder
Adrenaline junkies will jump at the chance to go up to 55 miles per hour at the famous Lake Bobsled Experience at the Olympic Sports Complex. Sit between a professional bobsled driver and braker as you race the same track used in the 1980s Olympics. The feeling of the speed and wind whipping past you will simply take your breath away! Traveling in the summer? Don't worry, in warmer temps the bobsled runs on wheels.
Take a Scenic Flight Over Lake Placid
Cap off your Lake Placid trip with an unforgettable flight over Lake Placid and the surrounding Adirondack High Peaks and Olympic Training Ground! Put on by the Adirondack Flying Service, this 20 minute tour takes off at the Lake Placid airport and holds seven passengers. You may forget your drive around town, but you'll never forget the time you FLEW over Lake Placid!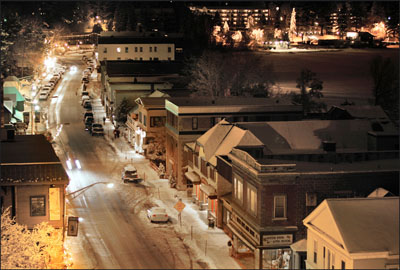 Do Fun Things in Lake Placid All Year Long!
After just a couple days of visiting fun attractions in Lake Placid, you'll soon find out why locals love living here year round! Now is the time to make sure the fun never stops and scoop up your own piece of the Adirondacks with property near Lake Placid. Checkout all of our Land For Sale Near Lake Placid, NY and contact us with any inquiries you may have about the property or living in the Adirondacks!