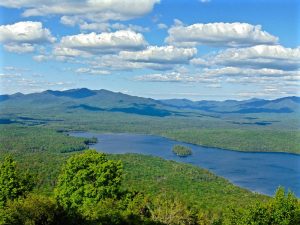 Whether you're looking for a quiet place to relocate permanently or you're looking for a quiet place to get away from busy life, Long Lake has you covered. While you look at available properties in the Adirondacks, here are a few frequently asked questions we get about Long Lake and what makes it unique for home and play.
Where is Long Lake?
One of the oldest communities in the Adirondack Park, Long Lake is located right in the heart of the Adirondacks just an easy 2-hour drive from Albany. Long Lake is a pristine wilderness playground that has been hosting generations of visitors looking for a quiet place to spend a little time. The lake itself is a widening of the Raquette River and flows north for 14 miles. Father of the Outdoor Movement, W.H.H. Murray once described its beauty by saying, "If you desire to see some of the finest scenery imaginable, pass up the Raquette to Long Lake . . . and you will behold what is worth the entire journey to see."
When is the best time of year to be in Long Lake?
Long Lake is the ideal destination for the nature lover no matter the time of year. In the summer, you'll find good company with those who enjoy the great outdoors whether you want to swim in the lake, enjoy a breathtaking view from a seaplane ride, paddle in miles of water, or lounge on the lake's pristine beaches. If you're more of a snow bunny, you'll have easy access to the endless miles of trails in the Adirondack Park for snowmobiling, snowshoeing, or cross-country skiing. For summer, winter, or anything in-between travel, Long Lake offers plenty of recreation in the beautiful surroundings it has to offer.
Will my whole family enjoy Long Lake?
If the 14 miles of waterfront beaches aren't enough to keep your family entertained, there's always plenty to do on the water. You can strap on the kids' life vests and learn how to stand up paddle board with them, take a canoe out on the water, or go for a simple swim. If your family is feeling adventurous, you can take a seaplane ride, go rock climbing, or walk out into the beauty of nature on one of several easy, kid-friendly hiking trails. Long Lake also boasts an action-packed activity calendar for residents and visitors alike with nature programs, arts and crafts activities, and live entertainment that's fun for everyone in the family.
What kind of culture will I find at Long Lake?
If you like to spend time wandering around a museum and taking in the history and culture of a region, Long Lake and its surroundings have plenty to offer. For a look at the history of the Adirondack Park as a whole, The Adirondack Experience, The Museum on Blue Mountain Lake offers an immersive, hands-on experience with both permanent and rotating collections. The National Historic Landmark, Great Camp Sagamore, was once the wilderness retreat of the Vanderbilt family from 1901-1954. Open to the public, Great Camp Sagamore offers tours and historic interpretation. These are just a couple of the museums in the Adirondack Park that will occupy your curious mind or keep you busy on a rainy afternoon.
What kind of fun can adults have in Long Lake?
If the outdoors aren't necessarily your thing or you've already visited the nearby museums, there is still plenty to do for adults looking for a low-key way to spend a day. Long Lake and its surroundings boast hundreds of artists and craftsmen who fill local retail establishments with unique goods to make a day of shopping one to remember. If you're looking for an outfitter for one of your outdoor adventures, you will find several stores that can help you prepare for canoeing, rafting, or any number of outdoor activities. Don't miss The Wild Center in Tupper Lake!
If you're looking for a unique dining experience, Long Lake has restaurants with every type of fare from steak to seafood to pub fare. What will make your dining experience unique in Long Lake is the quaint and cozy atmosphere, welcoming personality, and elegant ambiance of the Adirondack Park.
Looking for Long Lake, NY Real Estate?
Whether you're looking to live in or near Long Lake, NY full time or looking to purchase a little piece of paradise to get away to every now and then, Long Lake has just about everything you could want in amenities as well as natural beauty. Contact us today to talk about any available properties near Long Lake that will check off the boxes on your list.