Whether it's a snowshoe trek through the woods or a summertime hike up one of the Adirondack high peaks, it's important to follow some basic guidelines and safety tips for your well-being. As experienced hikers ourselves, below we've offered some of our top hiking tips!
Planning Your Adirondack Hike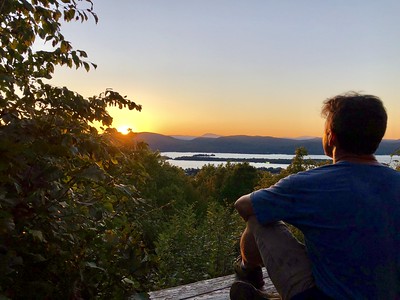 Pack Your Hiking Bag 
The first rule of planning your hike is to be prepared for any situation! You never know what may arise while out in the wilderness, and a well-stocked hiking bag can save almost any situation. Consider packing a compass and map (you may not have cell phone reception on the hike), plenty of water, snacks, a rain jacket, extra clothing, a first-aid kit, a flashlight, matches, and a utility knife.
Check Weather Reports 
Sure, Saturday afternoons are a great day and time to hike, but not when there's a torrential downpour! When planning your hike, always consult the weather forecast so you're not stuck in less-than-ideal and unsafe conditions. This includes the morning of and right before you leave, as Adirondack weather can change on a dime.
Pick A Hike Within Your Skill Level 
Are you a first-time hiker? Make sure you choose a hike that matches your skill level so you don't overexert yourself. (Or bore you if you're an experienced hiker!) Consult hiking guides or online resources for helping select which Adirondack hike is right for you and your experience.
Follow the Principles of LNT
LNT, or Leave No Trace are a set of 7 principles that each and everyone one of us should follow to minimize our impacts and make sure we leave the Adirondacks pristine for generations to come. 
The 7 Principles of Leave No Trace Include:
Plan Ahead and Prepare

Camp and Walk on Durable Surfaces

Dispose of Waste Properly

Minimize Campfire Impact

Leave What You Find

Respect the Wildlife

Be Kind and Considerate to Others
Safety Guidelines While Hiking
Keep to Trails 
Trails are made for a reason. For your own safety and for the safety of the Adirondacks' natural resources, stick to the trail. Not only will you ensure you won't get lost or encounter unsafe obstacles, but you'll also help preserve vegetation and animal habitats.
Hike with a Buddy (or Two!)
Don't hike alone if it can be avoided. Hiking with others actually decreases your risk of being stranded should a situation (like an injury or unexpected obstacle) occur. If you must hike alone, be sure to at least tell a friend where you're hiking, and when you're expected to be back. That way, if they don't hear from you after a certain time, they can call for help.
Be Willing to Turn Back Around 
Smart hikers know when it's time to throw in the towel and turn around. If it's getting late, a member of your hiking party is injured, or a storm rolls in, it's better to be safe than sorry. Hiking is about the experience of being in nature–not just making the summit–so be prepared and willing to turn back if the need arises.
Seasonal Safety Tips
Winter Hiking
When hiking in the winter months, remember to dress warm, as the Adirondack winter temperatures can go below 0 °F! Layer up to start, as you can always remove articles of clothing if you get too warm. Always bring additional clothes in your pack. Frostbite and hypothermia are real risks out here!
As always, watch out for slippery surfaces, especially ice during winter. And if you have to cross ice during your hike, test its strength with your foot before putting your whole body weight on it.
Mud Season 
Many of us can't wait to get out and hit the trails when the warm weather comes in the spring, but be aware that this time of year comes with one major caveat, mud. As the mountains begin to thaw, the excess rain, runoff, and melting snow can create extremely muddy trails. Be prepared to get dirty, stick to the trail, and enjoy mud season like a true local.
Summer Hiking 
When hiking in the summer months, hydration is key. The hot and sunny Adirondack days bring high temperatures and lots of sun exposure which can lead to heat stroke and exhaustion.
Thunderstorms also pose a threat. If you see lightning or the signs of a thunderstorm approaching, stay away from high ground and isolated trees.
A Network of Trails Right In Your Own Backyard
The Adirondacks have some of the best hiking around, and there's no better way to explore these trails than by owning your own Adirondack land. Many of our listings border state land, which means you won't ever have to hike far from home to enjoy spectacular views. Contact us for help finding your perfect piece of land.