Locals are fond of saying they have five seasons in the mountains — spring, summer, fall, winter, and mud. For the locals, mud season is just another natural phenomenon they take in stride.
What is Mud Season in the Adirondacks?
Mud season typically lasts roughly from mid-March to Memorial Day and primarily impacts hiking trails. The mud occurs because the ground thaws from the surface down and rain and snowmelt can't penetrate the frozen layer underneath. The repeated freezing and thawing further impact the soil, making it more susceptible to erosion. When hikers and vehicles travel over this unstable surface the result is mud. While it might not seem like a big deal, mud season creates serious environmental challenges and safety concerns for hikers.
Get Muddy to Prevent Trail Erosion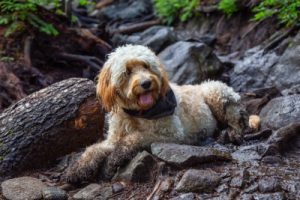 When hikers run into a muddy stretch of trail, the first instinct is to skirt the mud by walking on the edges of the trail. But the best path is right through the middle of the mud because walking the edges creates even more mud, further erodes the trail, and destroys trailside vegetation. Walk on durable surfaces like rocks, boulders, or man-made bridging when possible.
It's also a good idea to monitor the New York State Department of Environmental Conservation's Muddy Trail Advisories that are posted on the agency's press releases page. This will help you avoid trails with wet conditions that are potentially damaging to trailheads and fragile alpine plants.
Another solution is to do day hikes on lower elevation trails during transitions between seasons like mud season in spring and colder, shorter days in the fall. Take advantage of NYSDEC's guide to Adirondack Day Hikes. The guide provides information on trailheads, elevation, length of the hike, and more.
Be Aware of Hiking Conditions
Hiking in the high peaks of the Adirondacks can be dangerous for trekkers who don't respect the power of the mountains. As you reach higher elevations, muddy conditions transition to rotten ice and deep snowpack that can challenge the most experienced hikers. Slippery footing and cold temperatures significantly raise the risk of injury and hypothermia.
NYSDEC advises hikers to be extra cautious even on low-elevation trails as they will still encounter conditions such as thick mud, flooded areas, and slushy snow. Many trails also cross streams and during mud season the water can rise very quickly. A stream that's simple to cross in the morning may be impossible to navigate by the afternoon due to rapid snowmelt. Hikers should never attempt stream crossings during periods of high, fast-moving water.
Get a Grip With Your Boots
Nobody in the Adirondacks would try to get through mud season (or any other season) without a good pair of boots. Wet conditions call for sturdy, waterproof boots with rubber soles that will keep your feet dry and provide good traction.
For really severe conditions you may want to invest in some gaiters. These waterproof leg coverings protect the top of your boots and are available in a variety of sizes. Think of them as a way to seal your boot tops so your socks don't get wet and freeze your feet.
Keep in mind that snow and ice may still be around on the high peaks until June meaning snowshoes might be needed to hike certain areas. It's also smart to pack micro-spikes until temperatures are consistently above freezing on the summits. They will help you stay upright on icy trails.
Experience Mud Season As a Local
Mike Black has been getting muddy in the Adirondacks for years. He can help you find the perfect mountain property that suits your needs for every season. Contact us today to talk about how we can make living in the Adirondacks a reality for you and your family.