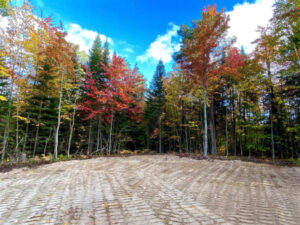 Many people dream of owning vacation property in the Adirondacks. The area offers so many recreational activities (fishing, hiking, boating, and skiing to name a few). And there's a wide range of housing options – from finished homes to buildable land.
If owning a property in the Adirondacks is your dream too, you can make your search and decision process easier by clarifying what you want before you start looking.
Decide things like:
What size and style of vacation home do you want?

What area do you want to be in?

Do you want to build your own home or do you want one that's already built?
Building your own vacation home offers more freedom and flexibility. You have a wide range of locations to choose from, and you can tailor your home exactly to your needs and style. When you want to build your vacation home, the first thing you need is a buildable parcel of land.
5 things to remember when buying buildable land for sale in the Adirondacks
Here are a few things to consider when buying buildable land in the Adirondack.
Is it really buildable?
Don't buy land that is too rocky, steep, or close to wetlands to be a building site. You may need a soil percolation (perk or perc) test to ensure that a conventional septic system will work. A reputable real estate professional who knows the area can advise you on what's buildable.
Financing issues
Many mortgage lenders won't finance a purchase of undeveloped land. Instead of a mortgage, you may need a land loan. Because they are riskier for lenders, these loans carry higher interest rates and down payment requirements, and repayment periods are usually shorter than typical home loans.
Utilities and road access
Most of us take certain things as given: running water, sewers, electricity, heating, phone connection, and even WiFi. However, if you're looking at land for sale, the basic infrastructure of roads and utilities may not be there. Before you buy, consider what's there and the cost of whatever needs to be brought in. 
Zoning
Zoning laws, codes, and ordinances can vary quite a bit from area to area in the Adirondacks. Within the Adirondack Park, the state zoning agency is the Adirondack Park Agency (APA), but depending on where the land is located, it may be subject to various local ordinances as well. A local real estate professional can help guide you through the tangle of regulations.
Title and boundaries
Before buying make sure a thorough title review has been conducted to ensure the property has a clear and marketable title. You should know of any easements or rights of ways that exist. Also, the boundaries of the parcel should be clearly marked.
Build your vacation dream home in the Adirondacks 
Imagine building your dream vacation home in the Adirondacks' Twin Ponds Preserve where there's gorgeous, untouched, buildable land for sale. Twin Ponds offers miles of shoreline and acres of water for you to explore. Plus, Twin Ponds is motor-free, with no public access points. It's a secluded location that's still close to all the activities the Adirondack area has to offer.
To make your Adirondacks dreams a reality, look at our properties for sale, especially those in Twin Ponds Preserve. Our properties are buildable and affordable. Contact our team of professionals to learn more!