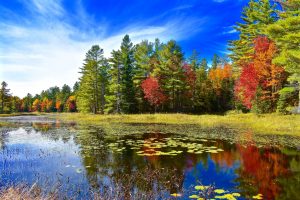 Water is a magnet for recreation-seekers. There are so many water-based activities: fishing, swimming, boating, and waterskiing to name a few. With its myriad streams, ponds, and lakes, the Adirondacks offers nearly limitless opportunities for fun.
It's no wonder the area draws in droves of vacationers and so many people want to own their own piece of waterfront paradise. If owning a waterfront property in the Adirondacks is your dream, here are a few things to consider.
Know what you want
Before you start looking, define what you consider to be the "perfect" waterfront property. Use this information to focus your search.
What kind of lake do you want? (Size? Depth? Densely-populated? Secluded?

Motor-free?

)

What size and style of house do you want?

What area of the Adirondacks do you want to be in?

Do you want to build or buy a house that's already built?
Is the property buildable?
If you're looking to build, don't buy land that is too rocky, steep, or close to wetlands to be a building site. You may need a soil percolation test to ensure that a conventional septic system will work. Work with a trusted, local real estate professional – someone who knows the area and can advise you on what's buildable according to local zoning and regulations.
Keep financing issues in mind when buying land only
If you're buying undeveloped land, you may need a land loan rather than a mortgage. Expect higher interest rates and down payment requirements than what's typical of a mortgage, and the repayment period may be shorter than what you get with a home loan. That's because land loans are riskier for lenders.
Consider less populated lakes to keep costs reasonable
When you think of lakes in the Adirondacks, Lake Placid or Lake George may come to mind since these are the most well-known vacation spots. That also means they're the most populated and most expensive.  Fortunately, there are a lot of other beautiful options for waterfront land for sale. Look at Saranac Lake, Tupper Lake, or Twin Ponds Preserve for less densely populated waterfront land.
Look at other money-saving options
If buying land that's right on the water is beyond what you can afford, look at lake-adjacent land. (For instance, Twin Ponds Preserve offers lots that have deeded access or are near common lake access areas.) You could also consider often-overlooked waterfront land for sale like property on trout streams and rivers.
Make sure of the title and boundaries
Have a thorough, professional title review done so you're sure the property has a clear title. Find out about any easements and be sure the property's boundaries are clearly marked.
Own waterfront land in the Adirondacks 
Owning waterfront land in the Adirondacks may seem like an unattainable dream, but some creative thinking and the help of knowledgeable professionals can help make the dream come true. 
Make your Adirondacks dreams a reality. Explore our properties for sale or reach out to a specialist to get started!