The Adirondack Park of New York is renowned for its wealth of recreation opportunities. Each summer and fall hundreds of thousands of people flock to the Adirondacks to experience the natural beauty. But, if you're only visiting during the summer you're missing out on endless winter recreation activities. So, if you think winter is only good for sipping hot chocolate by a fire, think again! 
You may have tried skiing, snowmobiling, or snow-shoeing in the Adirondacks, but how about ice fishing?  Cold and ice don't mean an end to angling. In fact, many eagerly await the day the ice is deep and strong enough to make the switch to ice fishing. 
Know Before You Go
Much like hunting, ice fishing has its own seasons that you should be sure to follow. Fishing for northern pike, pickerel, muskie, and walleye starts in mid-November and runs through mid-March. While trout, salmon, and crappie can be caught through the end of April.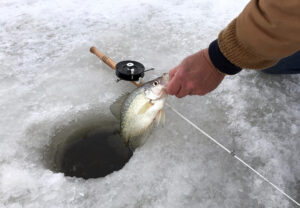 Other Ice Fishing Species Include:
Yellow Perch

Brown Bullhead

Largemouth Bass

Smallmouth Bass

Rock Bass
Fish Like a Local
Here are some local favorite locations to go ice fishing in the Adirondacks:
Great Sacandaga Lake
Great Sacandaga Lake, located in northeastern Fulton County, Great Sacandaga stretches 29 miles and is one of the largest lakes in the Adirondack Park. Here you'll find bullhead, yellow perch, pickerel, and of course, walleye. Visit Great Sacandaga January-February for the Walleye Challenge, an annual fishing tournament to see who can bag the heaviest catch.
Tupper Lake
Located in Franklin County, Tupper Lake is a hotspot for large northern pike, lake trout, and walleye. It's no wonder this is considered to be an angler's paradise! Nearby Lake Placid offers the perfect base for your visit offering a wide variety of recreation, dining, and shopping options
Long Lake
Aptly named, Long Lake is made up of a 14-mile-long widening of the Raquette River and offers pristine conditions for ice fishing. Though Long Lake is home to many species like the brown bullhead, yellow perch, and lake trout, the real draw is the northern pike. 
Getting hooked
Ready to try ice fishing out for yourself? To get the most out of your first ice fishing experience, check out our quick start ice fishing guide.
If you're looking to get into ice fishing long-term, there's no better way to than by owning a piece of Adirondack lakefront property. Hit the ice whenever you feel like it, you never know when the fish may be biting! Contact Mike Black to inquire about one of our many pieces of Adirondack waterfront property for sale.