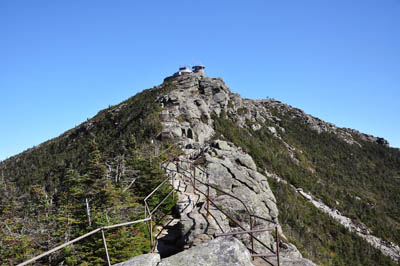 Whiteface Mountain may only be New York's fifth-highest peak, but it certainly holds the title of most popular. Named for its signature snowy peaks that are "snow-white" ten months out of the year, Whiteface is perhaps most famous for hosting the alpine skiing competitions of the 1980 Winter Olympics. The Whiteface Ski Center is still just as popular today for amateur and professional skiers as it was then. Just 10 miles north of Lake Placid, in Wilmington, NY, Whiteface Mountain is a popular day trip destination for upstate tourists.
Visiting Whiteface Mountain
Unique to the rest of the Adirondack High Peaks, Whiteface's summit is completely accessible by car—how easy is that? To visit the summit, take a drive on Whiteface Veteran's Memorial Highway to lead you directly to the developed summit. Once you're there pick up a souvenir from the gift shop, or take an elevator ride deep inside the mountain to the mountain's highest point and take in the expansive 360-degree view of the neighboring Adirondack mountains. On a clear day visitors can easily see as far as Vermont and Montreal!
Visit Lake Placid Land for Sale
There's no other Adirondack High Peak quite like it. With its easily accessible breathtaking views and summit activities, you'll be satisfied with your visit after visit. While you're in town be sure to explore our Lake Placid land for sale and schedule a tour today!