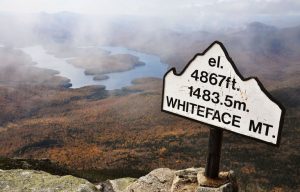 Touching the clouds at a majestic 4,867 feet, Whiteface Mountain is one of the highest peaks in the Adirondacks and offers the greatest vertical drop east of the Rockies, making the town of Wilmington a premier winter destination for skiers and snowboarders. The town also offers world-class trout fishing, hiking and mountain biking, and is home to "Santa's Workshop", one of the first theme parks in the United States.
Area Info
Located 20 minutes northeast of Lake Placid, Wilmington was formed in 1821. The town was originally referred to as Dansville, but when confusion arose over another New York State settlement with the same name, it was changed to Wilmington in 1822, after the nearby town of Wilmington, Vermont. More than 60% of the town is State Forest Preserve, and the West Branch of the Ausable River flows directly through its center.
Attractions & Recreation
Wilmington offers a variety of winter sports, including cross-country skiing, snowshoeing, ice fishing, snowmobiling, and, of course, downhill skiing and riding at Whiteface Mountain Ski Center, host of the alpine events for the 1980 Winter Olympics. Also located along Whiteface Mountain Veteran's Memorial Highway is the small hamlet of the North Pole, home of "Santa's Workshop". The Christmas-themed amusement park opened in 1949 and hosts visitors from June through December, featuring holiday characters, reindeer, live performances and more.
In the spring, summer and fall, outdoor enthusiasts enjoy hiking, mountain biking and world-class trout fishing in the Ausable River. Popular natural attractions include the High Falls Gorge, featuring 700 feet of rushing water, steep cascades and high cliffs, and the natural waterfalls and swimming holes within the Flume Trail System. Wilmington also has a Town beach with a playground, picnic area and boat launch on Lake Everest, where residents and guests can rent kayaks, canoes and paddleboards, and enjoy free concerts on Thursday nights throughout the summer.
Dining & Shopping
Wilmington offers a variety of dining options, ranging from friendly pubs and fast-food chains to cafes and upscale restaurants. Popular eateries include Pourman's Tap House, R.F. McDougall's Pub, Fratelli's Pizza, Up a Creek Restaurant, Hungry Trout Restaurant, River Café at High Falls Gorge and A&W Restaurant on Whiteface Mountain Veteran's Memorial Highway.
Wilmington's shops and locally-owned businesses have everything you need, from everyday staples and sporting goods to Adirondack souvenirs and gifts. Stop by Hungry Trout Fly Shop, Brookside Apparel, The Great Outdoors and The Little Supermarket, and shop unique finds at Adirondack Chocolates and Unicorn Square.
Land for Sale Near Wilmington
Wilmington is a beautiful place to visit and an even better place to live. If you're interested in buying land in the Wilmington area, Adirondack Mountain Land can help you with your search. We have several plots of land for sale in the Whiteface Region and can help you choose the perfect place for your permanent home or vacation getaway. Browse our available listings or contact us to learn more about our land for sale near Wilmington.