It's a sight to see. A dazzling display of gorgeous reds, oranges, and yellows. For many of us, there is nothing more anticipated than autumn in the Adirondacks. It's a time when leaf peepers flock to the region in droves, and it's a time when you can be sure to see some of the breathtaking scenes that make a picture-perfect experience.
We've put together a comprehensive guide on when to see the leaves and some of the top attractions and activities in the 'Daks. Whether you're planning a quick day trip or visiting from out of state, our Adirondack Fall Foliage Guide is your one-stop resource for everything you need to know about seeing the best fall foliage in the Adirondacks.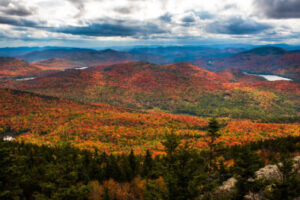 When Do The Leaves Change in the Adirondacks?
While foliage season can vary from year to year depending on a variety of factors – like the length of daylight, temperature, and moisture levels – locals will tell you that the leaves typically peak from mid-September to early October. 
Fall foliage can be seen throughout the entire Adirondack park, so it's not necessary to travel far from your home base to enjoy it. But, depending on where you live, the trees will begin to change color at different times. Lower elevations that stay warmer for longer will begin to turn later than their high-peak companions. To stay up to date with the latest updates across the region, check out the I Love NY Weekly Fall Foliage Report. 
Best Locations for Leaf Peeping in the Adirondacks
With 6 million acres to choose from, it can be difficult to determine which areas will have the most vibrant fall foliage. Here are some of our favorite places where you can see fall foliage in the Adirondack Park:
Lake George
Lake George has some of the most beautiful fall foliage in all of New York State. Explore over 50 miles of hiking trails through state parks, forests, and private lands. If you have time between hikes, stop by Lake George Village for a cider donut and warm drink at one of the many cafes lining Main Street.
Lake Placid 
As one of the most popular locations in the Adirondacks, it's no surprise that Lake Placid offers spectacular opportunities for leaf peeping. Spend a crisp fall day with spectacular displays reflected along the shores of Mirror Lake or take a scenic drive to the summit of Whiteface Mountain to enjoy the colors with 360-degree views of the high peaks.  
Long Lake
Centrally located, Long Lake is an easy 2-hour drive from the Capital Region, 2 hours south of Montreal, and less than 5 hours from Boston and New York City, making it the perfect destination for locals and out-of-towners alike!
Make the Most of the Fall Foliage
When the summer heat finally breaks, the crowds disperse and the air turns crisp and cool. It's a perfect time to get outside—here are some of the most popular ways to enjoy autumn's rich colors.
One of the best ways to see fall foliage is on foot. The Adirondacks are home to all kinds of hiking trails for all kinds of experience levels. Try out a new trail or go back to one you've done before—either way, it's an amazing way to spend the day.
On The Water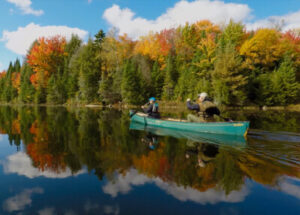 Fall is a great time to hit the water with your friends and family. Relax on the boat or explore solo in a canoe or kayak. The best part is that you don't have to travel far to see the fall foliage. Just head out onto any body of water in the area and enjoy!
Gondola & Ski Lift Rides
Take your leaf peeping to new heights with a scenic gondola or ski lift ride! You'll be able to see the changing colors in all their glory while enjoying breathtaking views from the summit. 
Scenic Byways
Fall foliage drives are a great way to enjoy the beauty of fall without even leaving your car. Here are some popular scenic drives for fall foliage in the area:
Central Adirondack Trail

Tupper Lake to Long Lake

Indian Lake to Speculator

Southern Adirondack Trail 

High Peaks Byway 
From Your Own Adirondack Property
Whether you enjoy the color change from your back porch, on the water, or taking a hike through your private land – when you own Adirondack property, fall is yours to enjoy! View our available listings or contact us today to get started!