There's something incredibly peaceful about paddling across a calm, quiet lake, surrounded by untouched wilderness and the natural beauty of the Adirondack Mountains. Although the number of motor-free lakes in the Adirondacks is limited, these quiet waters provide many benefits, not only for recreation, but for natural resource protection.
5 Benefits of Motor-Free Lakes in the Adirondacks
Motor-free waterways provide an escape from the hustle and bustle of everyday life and play a vital role in the preservation of natural resources.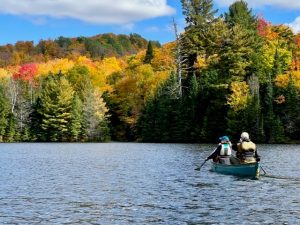 Quiet & Solitude
In our fast-paced world, few places remain that offer a true escape from hurried life. The motor-free lakes of the Adirondacks provide a much-needed place of refuge from the noise, speed and smell of roaring engines. Unlike a lake with motorboats, dozens of canoes and kayaks can use a motor-free lake simultaneously and the experience remains one of tranquility.
Accessibility
It's important that people have accessible wilderness areas, and the Adirondacks offer many great opportunities for hiking in wild places. Unfortunately, seniors and people with mobility issues may not be able to hike a great distance, but they can likely paddle or ride in a canoe. Motor-free lakes make it possible for everyone, regardless of physical ability, to enjoy a true wilderness experience.
Wildlife Protection
Species of waterfowl, including loons, prefer to nest on quiet lakes and travel to forage on larger lakes. Motorboats can disturb these nesting waterfowl, forcing them off their nests, and even swamping them with waves. Motor-free waters provide a better habitat for nesting waterfowl and wildlife, and provide paddlers with more opportunities to observe native species and intact ecosystems.
Less Shoreline Erosion
Waves and erosion have a major impact along shorelines, and the impact is far greater on waters with heavy motorboating. Boat wakes suspend and carry nearshore sand particles into deeper water offshore, ultimately leading to shoreline steepening. Canoes and kayaks have a much smaller wake and, as a result, motor-free lakes and ponds are less likely to experience shoreline erosion.
Lower Risk of Invasive Species
The threat of invasive species infestations is much lower on motor-free lakes because kayaks and canoes are less likely to spread aquatic invasive species from lake to lake than motorboats. With "cartop" boats there are no boat trailers where water can pool, or debris and plants can become suspended. It's also easier to clean and see vegetation and debris hanging from a canoe or kayak.
Adirondack Land for Sale on Motor-Free Waters
For nature lovers seeking untouched wilderness and the quiet solitude of the mountains, New York's Adirondack Region offers endless benefits. However, many are surprised to find that the number of motor-free lakes in the Adirondacks is actually quite low, and land for sale on these motor-free waters is even rarer, which is why Twin Ponds Preserve is so special.
Featuring 7 miles of shoreline, 500 acres of water, and trophy brook trout fishing on one of the few motor-free lakes in the Adirondack Park, Twin Ponds Preserve has lake access parcels of 5-20 acres starting at just $49,000. For more information about our land for sale on motor-free waters in the Adirondack Park, view our property listings or give Adirondack Mountain Land a call at 518-481-4026.