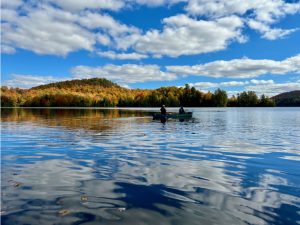 It's getting harder and harder to escape the hustle and bustle of everyday life and reconnect with nature. Across the nation, urban sprawl and development are swallowing up green space and paving over acres of forest and agriculture. Few places remain that offer a true escape from hurried life. The Adirondacks are one of those places.
Covering 6 million acres in northeastern New York State – just over the border from Montreal – the Adirondack Park offers untouched nature and the peace and quiet of a bygone era. Unlike other spaces that are being threatened by overdevelopment, the Adirondacks remain wild due to strict environmental protection laws. As a result, buying land in the Adirondacks is more than a real estate investment, it's a long-term investment in tranquility.
Why Buying Land in the Adirondacks is so Valuable
The Adirondack Park is equal in size to the state of Vermont, and it's three times the size of Yellowstone National Park. However, unlike a national park, it doesn't have an entrance or an entry fee. Forty-five percent of the park is publicly-owned forest preserve, protected as "Forever Wild" by the NYS Constitution since 1894. The remaining 55% is private land.
Untouched Nature
The Adirondack Park is revered for its lush forests, high peaks and pristine lakes and rivers, and nearly half of it is untouched beauty waiting to be explored. One-million acres of the public land is protected as wilderness, meaning only non-mechanized recreation is permitted, while approximately 1.3 million acres is considered wild forest and allows for motorized recreation on designated waters, roads and trails.
Fresh Mountain Air
There are few things more peaceful than doing absolutely nothing while breathing in the cold, clean, fresh mountain air from your Adirondack cabin. Dense forests and sparsely populated towns result in an air so clean that is has a distinctly refreshing smell, and the healing properties are considered so great that the Adirondack town of Saranac Lake actually became a world-renowned treatment center for tuberculosis between 1873 and 1945.
Wildlife
The Adirondacks are home to an abundance of wildlife, including the iconic moose, black bear, bald eagle and loon, most often recognized by its hauntingly beautiful call across the water. Other native Adirondack wildlife include the white tail deer, fox, beaver, otter, bobcat and coyote. There are more than 50 known species of mammals in the Adirondack Park and 35 species of amphibians and reptiles, as well as many birds.
Recreation
The Adirondack Park is a paradise for outdoor adventure. Popular recreational activities include hiking, mountain biking, fishing, boating, canoeing, kayaking, paddleboarding, white-water rafting, and rock climbing. Winter activities include alpine and Nordic skiing, snowshoeing, snowmobiling and ice fishing. Year-round, the Adirondacks are a prime destination for reconnecting with nature and exploring the outdoors.
Small Town Charm
Of course, the Adirondacks aren't all wilderness. Pockets of civilization, such as Lake Placid, Saranac Lake, Malone and Schroon Lake, offer shopping, dining and entertainment, and serve as access points to the mountains for hiking and biking. Each with its own character, these small mountain towns exude old-world charm and a laid-back tranquility.
Contact Us About Investing in Adirondack Land
The Adirondacks are truly a unique and special place. Constitutionally-protected from urban sprawl and preserved for their natural beauty, recreation and charm, the Adirondacks are an invaluable land investment.
If you're interested in learning more about owning land in the Adirondack Park, or you are ready to make a purchase, contact Adirondack Mountain Land. We have several parcels of land for sale in the Adirondacks, including waterfront property, deeded lake access, build-ready plots, and land with stunning mountain and lake views. Browse our property listings or give us a call at 518-624-6055 for assistance with your search.