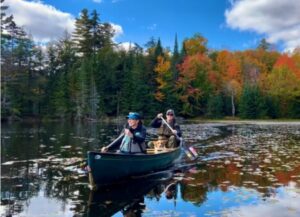 The Adirondacks are revered for their abundance of untouched wilderness and natural beauty. People travel from near and far to experience the great outdoors in this 6-million-acre park, which offers many wild mountains to climb, trails to hike, and backcountry to bushwhack, all free of motor vehicles. Of course, the park also features thousands of lakes and ponds to explore, but the opportunities for a motor-free, quiet lake experience are far fewer than you might expect.
Number of Motor-Free Adirondack Lakes & Ponds
There's a misconception that the Adirondacks have an abundance of motor-free lakes and ponds, when the reality is that there are very few quiet waters for paddling in a canoe or kayak without motorboats, jet skis, floatplanes and other types of motorized watercraft.
A special report conducted by Protect the Adirondacks notes that, of the 100 largest lakes in the park, only 10 of those bodies of water are motor-free*, and three of those lakes are remote and inaccessible for paddling. Even when the organization expanded its review to include the 200 largest lakes in the park, they determined that 115 of the lakes allow motorized watercraft and 54 are private; which means only 31 of the 200 largest Adirondack lakes are motor-free, and 12 of those motor-free lakes are inaccessible, requiring a lengthy hike and portage.
List of Public Motor-Free Lakes in the Adirondack Park
A motor-free lake is a public body of water where any kind of motorized watercraft, including floatplanes are prohibited. For a truly quiet lake experience, paddlers have the choice of seven Adirondack waters.
Lows Lake – Located in Colton NY in St. Lawrence County
Little Tupper Lake – Located in Long Lake NY in Hamilton County
Round Lake – Located in Long Lake NY in Hamilton County
Lake Lila – Located in Long Lake NY in Hamilton County
Regis Pond – Located in Santa Clara NY in Franklin County
Boreas Pond – Located in the towns of Newcomb and North Hudson NY in Essex County
Third Lake – Located in Minerva NY in Essex County
These Adirondack lakes are also motor-free, and are beautiful places to hike to, but they are largely inaccessible for paddling.
Cedar Lake – Located in the West Canada Lakes Wilderness
Newcomb Lake – Located in the High Peaks Wilderness
Pharoah Lake – Located in the Pharoah Lake Wilderness
Adirondack Land for Sale on a Motor-Free Lake
Finding a motor-free lake in the Adirondacks is harder than you might expect, and land for sale on these lakes is even scarcer. Twin Ponds Preserve is a truly unique opportunity to own a piece of land on a private, motor-free lake in the Adirondack Park. Enjoy 7 miles of shoreline, 500 acres of water and trophy brook trout fishing on one of the few motor-free lakes in the Adirondacks. Lake access parcels of 5-20 acres start at just $49,000. View our property listings or call 518-481-4026 to learn more about our Adirondack land for sale on a motor-free lake.
* The report issued by Protect the Adirondacks states that only 8 of the 100 largest Adirondack lakes are classified as motor-free. However, since the report was published in 2013, two bodies of water, Boreas Pond and Third Lake, have been established as motor-free, bringing the current total to 10.