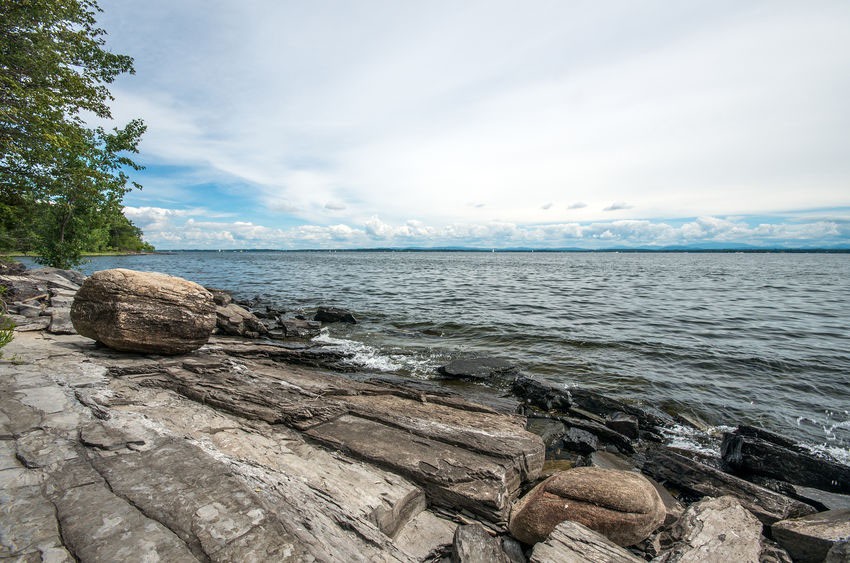 If you're looking for lakefront property for sale, it's definitely worth exploring Lake Champlain. Known for its rich history and a legendary lake monster named "Champ", this area offers scenic beauty, an abundance of recreational activities, and some of North America's best bass fishing.
Lake Champlain By The Numbers
As the third largest body of water in New York, and the sixth largest in all of the United States, Lake Champlain flows north from Whitehall NY, through the Adirondack Mountains, into Vermont, and all the way into Quebec, Canada. It is 120+ miles long, extends 12 miles across at its widest point, and reaches depths of 400 feet.
The lake is bordered by Plattsburgh, NY on its western shore, Burlington, VT to the east, and Ticonderoga, NY to the south. At just around 100 feet above sea level, Lake Champlain is actually the lowest point within the 6 million-acre Adirondack Park.
Champlain Valley History
Lake Champlain (along with Lake George) played an integral role in The Revolutionary War and the history of the United States. As the only navigable waterway between the Adirondack Mountains and Green Mountains of VT, many important forts were built here and several battles were fought on Lake Champlain's shores. Among the most famous is the Battle of Plattsburgh. Also known as the Battle of Lake Champlain, this major turning point in the War of 1812 took place in Plattsburgh Bay on Lake Champlain, and ended with an American victory over the British.
Recreational Activities
Boating, fishing, biking, paddling, swimming, skiing, snowmobiling, ice fishing, hunting – it's all here in the Lake Champlain Valley. In addition to the lake's nearly 500 square miles of water, and relatively undeveloped coastline, the Champlain Area Trails System (CATS) includes more than 40 miles of trails, many of which provide short, easy hikes to spectacular vistas of Lake Champlain to the east and the Adirondack High Peaks to the west.
Bass Fishing
Lake Champlain consistently ranks among the top fishing spots in the nation. A popular destination for lake trout and landlocked salmon, it is most beloved for its legendary bass fishing. It has been named one of the top bass fishing lakes in North America and referred to as "the best lake in all of North America for both quality largemouth and smallmouth bass" by the World Fishing Network.
Land for Sale on Lake Champlain, NY
Surrounded by the beauty of the Adirondack Mountains, a storied history, and endless opportunities for outdoor adventure, it's easy to fall in love with Lake Champlain. Whether you're considering living here year-round or simply owning a vacation property on the lake, we'd love to help you find your piece of paradise. We invite you to browse our lakefront properties for sale or contact us for more information.